Course details
Traditional course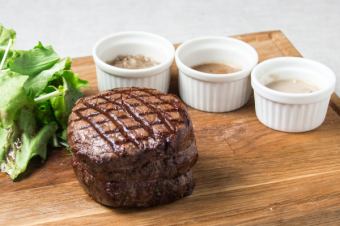 Taruta steaks and Sharukutryu of horsemeat reproducing the taste of the head office in Paris, main leaves with fillets of rare short-length beef which can take only 1 to 3% are prepared with charcoal grill. Please enjoy traditional bistro cuisine and original meat of lean meat.
Course menu
【Appetizer】 3 varieties of Schalculley platter
Homemade domestically produced swine with roast ham carrot rapes
Authentic Pate do Campagne
Domestic beef ham
【Tartar】 Classic tartar steak with horse meat
Reproduce the same taste as Paris head office! Classical French tartar.
【Heated dishes】 Navaran style of lamb and summer vegetables
【Salad】 Tomato and mozzarella salad balsamico dressing
【Main】 Australian short-length cow rare fillet cooked fire
Please enjoy softness which can not be thought of as lean, taste full of red meat intrinsic taste.
【De-sale】 Handmade Cream Brulee
2017/06/28 update