Course details
Tomahawk course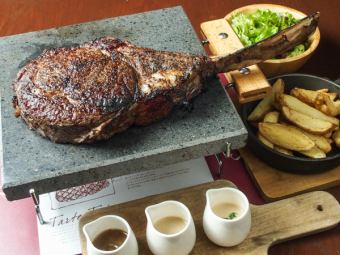 Sakura Fleur specialty! It is a course that you can fully enjoy "Tomahawk" with bones. Taste of meat with bone ,,, Carnivorous There is a chunk of meat that men and women want. Please dedicate yourself to the carnivorous man and woman, about 1 kg of bone-attached bone "Tomahawk"!
Course menu
【Appetizer】 France made ham "Jambond Bayonne" and seasonal vegetable carpaccio
【Tartar】 Classic tartar steak with horse meat
Reproduce the same taste as Paris head office! Classical French tartar.
【Heated Mixer】 Domestic Pig's Low Temperature Roasted Shuke Route with Duxcel Sauce
【Salad】 Simple green salad balsamic dressing
【Main】 Specialties! "Tomahawk" Ribbon with char burned charcoal grill
【De-sale】 Handmade Cream Brulee
2017/06/28 update