Course details
Classic course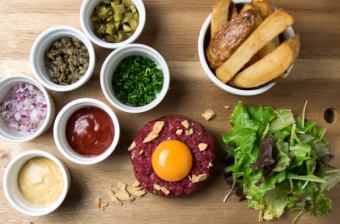 Sakura Fleur We will deliver charcoal grilling of French Charolée beef at a volume of 150 g per person, with horse meat tartar steak and homemade roast ham reproducing the same flavor as Paris head office. Please enjoy traditional bistro cuisine.
We will prepare cuisine according to your budget, so please feel free to contact us.
Course menu
【Appetizer】 Domestic swine's homemade roast ham carrot lappy
【Tartar】 Classic tartar steak with horse meat
Reproduce the same taste as Paris head office! Classical French tartar.
[Heated dishes] Lightly boiled forest chicken and summer vegetables
【Salad】 Simple green salad
【Main】 France's oldest beef cattle "Charolée cattle" Shoulder loin charcoal grilling
【De-sale】 Handmade Cream Brulee
2017/06/28 update